Achieving NHA certification and having those trusted, credible credentials shows employers that you are a candidate who is serious about their career.
Whether you're a student going through an allied health program or already employed in the field, building your healthcare career starts here.
The value of NHA certification
Healthcare institutions are experiencing a strong need for employees with validated, nationally recognized certifications. An NHA credential shows that you are dedicated to your chosen field, demonstrating not only a proven level of knowledge, but also a desire for excellence.

Employer preferred
75–93% of employers require or encourage certification for the 8 allied health professions NHA offers. (Source: NHA's 2020 Industry Outlook)

Higher wages
63% of employers said they increase pay when an employee earns professional certification. (Source: NHA's 2020 Industry Outlook)

Nationally recognized
NHA's certification exams are portable, recognized by employers across the U.S, and accredited by the National Commission for Certifying Agencies (NCCA).
8 certifications, infinite opportunities
The National Healthcareer Association offers eight nationally accredited certifications that are recognized and respected by employers. With these certifications come more opportunities, better pay and increased job security.
*Sources: Bureau of Labor Statistics. (2019). Occupational Outlook Handbook.
National Healthcareer Association (2020). 2020 Industry Outlook.
I became employed within a few months of my certifications. I am so thankful that I was able to go from a job I hated to a career that I love.
Jennifer Devose - CPT, CET, CPCT/A
The NHA difference
NHA isn't just a certification provider. We're your certification partner—and we're dedicated to providing tools, resources, advocacy, support, and industry connections to help you achieve success.

Download the "7 Criteria for Selecting the Right Allied Health Certification Partner" guide
Download Guide ‣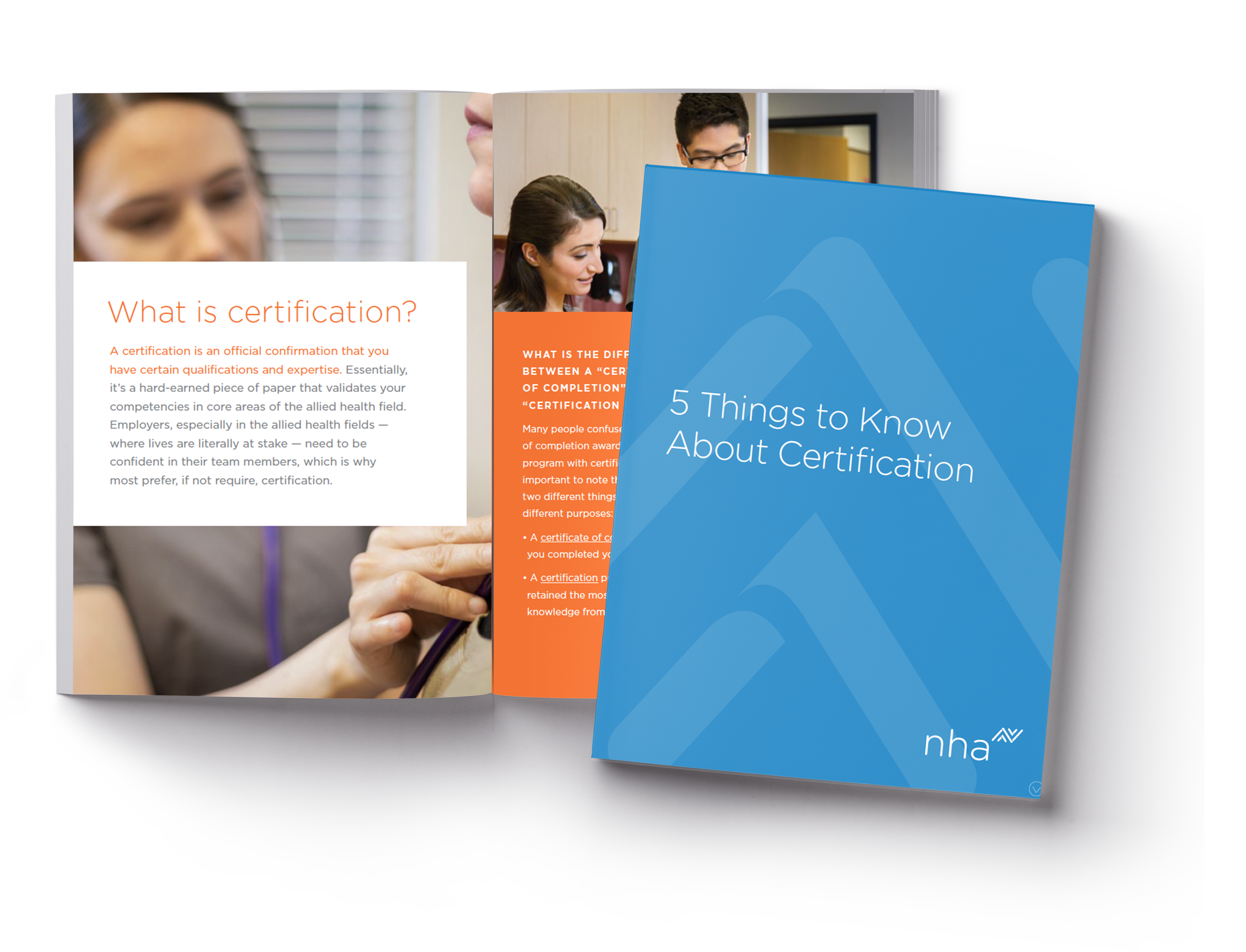 Is NHA certification right for you?
Do you even need a certification? Does it matter which certification? How do you begin? We've broken it down in this short "5 Things to Know About Certification" eBook.
Learn More About Certification
Subscribe to NHA's Care + Career Blog