---

Celebrate CTE Success with #CTEMonth2022
Learn More!
A certification pathway for high school health science students
NHA's Provisional Pathway leads to industry-recognized credentials.
Employer-sought, nationally-recognized & NCAA-accredited healthcare certifications
Improves college & career readiness
Exposure to hands on experiential learning earlier
Certification & learning resources designed to improve performance
Flexible exam dates
*Not applicable for the ExCPT Exam for Pharmacy Technicians up to 12 months prior to graduation date.
Get Started Today!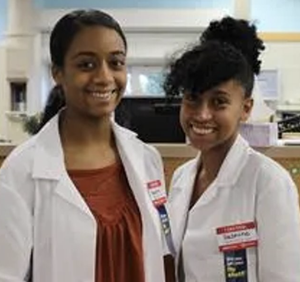 NHA provides access to eight medical professions for CTE students.
NHA partners with you every step of the way, helping your students enhance their skills, knowledge, qualifications, and setting them on the path to a career in healthcare.
*Sources: Bureau of Labor Statistics. (2019). Occupational Outlook Handbook.
National Healthcareer Association (2020). 2020 Industry Outlook.
How it works
Your LMS + our learning materials in one, seamless integration
If you're an educator or manager, you know preparing your learners for success means more than just arming them with great content and learning tools. It also requires convenient access to great content and learning tools, and we've got you covered there too!
We provide access to all NHA materials directly from your institution's learning management system (LMS) using a Learning Tool Interoperability (LTI)-Based Cartridge. The LTI functionality allows your institution to securely launch content and activities directly from your LMS for convenient access to all your materials, all in one place.
This means less time on administrative tasks, fewer manual errors and more focus on your learners' success.
Features:
Compatible with most major LMS platforms
Easy access for learners through single sign-on (SSO)
Automatic syncing of scores with LMS grade book
We're not just here to administer a test. We're here to support your high school students with resources that can empower them to succeed.
Learn More About Preparation Resources

Getting Started with NHA
Thinking about starting a new CTE health science program?
NHA can provide support by highlighting best practices along with helping to connect you with other CTE partners that are able to share how they started and achieved their new program goals with a focus on engaging instructors, students and community partners.
Get Started Today!
The tech-friendly certification tools help us meet our students where they are. NHA is flexible and creative, so they fit our unique learning environment well. Rená Kuehler, RN, teacher at Amarillo Area Center for Advanced Learning
Are you an employer or educator? Get started today with a free consultation!
Our dedicated specialists are here to assist you – from setup, training resources, and study materials to exam scheduling and certification. Our team can help you determine how to align NHA's learning resources and healthcare certifications with your organization's needs. When you partner with NHA, you don't just get certified healthcare workers. You also get a support team of certification specialists and 24/7 online management tools. Click below to get started!
Latest healthcare industry trends