How to renew your NHA certification
Follow the three simple steps below to complete your NHA certification renewal. Your expiration date will be automatically updated when you complete your payment.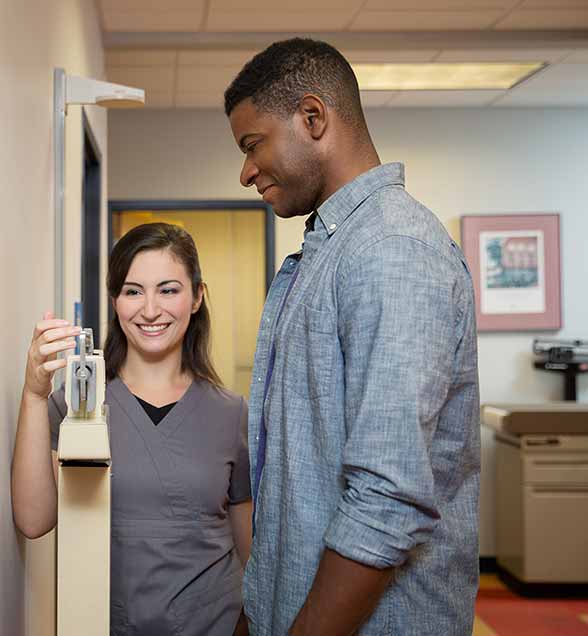 What is renewal and why does it matter?
The purpose of NHA certification renewal is to encourage you to continue to expand your knowledge and skills in your field, demonstrate your ongoing commitment to keeping pace with developments in your field, and assure the public that you have met current professional standards required for practice and to maintain your certification.
To support this purpose, our recertification process requires you to participate in continuing education (CE) activities that enhance your ongoing professional development.

By completing the renewal process and taking NHA-approved CE, you are demonstrating that you have studied the latest protocols and techniques to ensure safety and efficiency in the workplace.
Why should I renew?
If you are working in allied health, or plan to pursue a career in the future, it's wise to stay current on your certification. Most healthcare employers require or prefer certification, and 63% of institutions increase pay when an employee earns professional certification. (Source: NHA 2020 Industry Outlook)

Plus, being NHA certified comes with exclusive benefits:
Unlimited access to continuing education content with no additional fees
Reduced fees for NHA certified professionals with multiple credentials
Active/Current certification holders are searchable by their credential/can be verified by employers
Occasional discounts on NHA renewal fees
Free professional development tools and resources
Support team available by phone, email, chat, and social media
Ability to add your certification to your LinkedIn page
Opportunities to participate in national healthcare industry studies and task forces
Certification renewal fees
Renewing your certification costs $179 every two years. That works out to about $7.50 a month — a small investment to show your commitment to your career.
If you have multiple NHA certifications, you only have to pay $60 for each additional certification renewal, and you aren't required to complete additional CE credits.

These fees apply within your two-year certification renewal period. Certifications expire after two years.
*The 10 credits apply toward one or more certifications. For example, if you hold three certifications, a total of 10 credits is required to renew all three certifications.
Let your certification expire?
If you're past your two-year certification renewal period, you have options.

Less than 30 Days
If your certification expired less than 30 days ago, you can still go through the normal renewal process without any additional fees.

Less than 12 Months
If your certification has been expired more than 30 days but less than one year, you are still eligible to reinstate your certification but must take additional steps as outlined below.

More than One Year
If your certification has been expired for more than one year, you must retake your NHA certification exam.
How to reinstate your certification
Certifications that are more than 30 days but less than one year past the expiration date must reinstate to become active.
To reinstate, you must complete 15 continuing education (CE) credits, pay the renewal fee of $268.50 and a $99 reinstatement fee, for a total of $367.50. Click the button below for detailed reinstatement instructions.
*Note: Expired certifications that are not reinstated within one year are no longer valid. In order to recertify, candidates will be required to retake the NHA certification exam.


Resources to help you get started
Still have questions about earning your healthcare certification from NHA?