See PharmaSeer Math™ in action & see how it can help prepare your current and future technicians to work at the top of their skillset!
Reduce costly calculation errors
Pharmacy technicians perform pharmaceutical calculations on a daily basis, and the accuracy of these pharmacy tech dosage calculations is vital to patient safety. PharmaSeer Math™ is an online learning tool that helps pharmacy technicians and students learn pharmacy tech math so they can confidently perform their job, decrease dosage errors, and improve patient safety.
Making complicated calculations simple
Just the words "pharmacy technician compounding" can make some heads spin. But it doesn't have to be so complicated. PharmaSeer Math™ uses interactive learning tools and powerful insights to help users learn pharmacy tech math in an engaging, impactful way.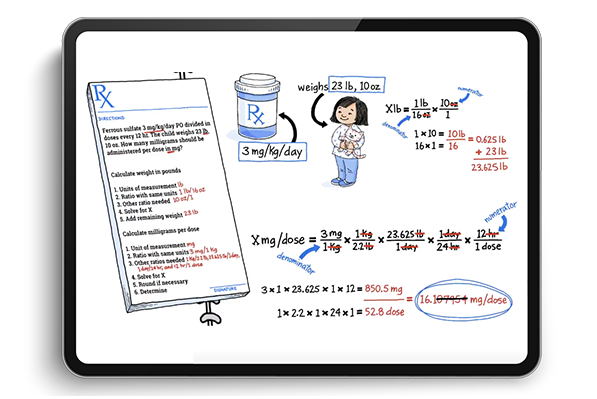 Self-paced, online content available anywhere (computer, tablet & mobile), anytime
Animated video walkthroughs
Step-by-step activities for complex calculations
End-of-lesson quizzes
Progress and performance insights to identify strengths and weaknesses
Five learning modules covering important topics from measurement basics to pharmacy technician compounding
Pharmacy technicians and students use PharmaSeer Math™ to help them master calculation techniques, improve confidence, and reduce calculation errors.
Variety of calculation methods to accommodate all learners
Everyone learns differently. Trainers and educators often struggle to teach pharmacy technician math concepts because they've often only relied on one method themselves.
PharmaSeer Math™ demonstrates three calculation methods with walkthrough animations and step-by-step activities to show how to perform each. This empowers learners to choose which calculation method works best for their learning style.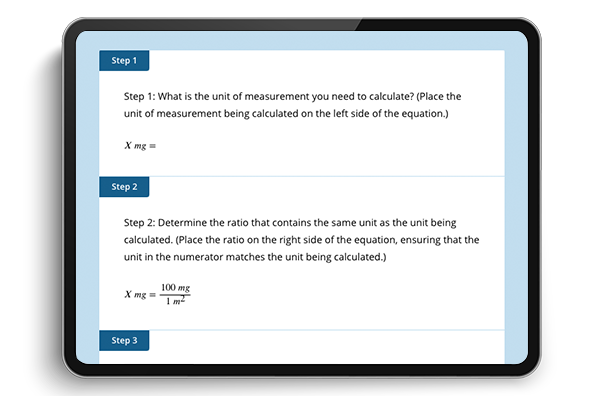 Competency Validation
7 end-of-module quizzes
Practice drills and interactive games
Learner usage, performance, and seat-time analytics
Resources and support
for successful implementation
We strive to take the stress out of teaching pharmacy technician math
by providing resources and tools for training facilitators and educators.
Learn More about PharmaSeer™
Free Infographic: When Bad Math Makes its Mark
How medication dosage miscalculations impact both patients and pharmacies.
Download Now ‣