Educate and train your students with NCCA-accredited certifications
NHA partners with you every step of the way, helping your students enhance their skills, knowledge, qualifications and sett them on the path to a career in healthcare.
*Sources: Bureau of Labor Statistics. (2019). Occupational Outlook Handbook.
National Healthcareer Association (2020). 2020 Industry Outlook.

Bring NHA certification exams to your organization
Our certification specialists are ready to guide you through the process of turning your students into sought-after NHA credential holders.
Convenient online application process
Schedule exams on-demand
On-site, third-party and live-remote proctoring options
Immediate online exam results
"NHA's online certification preparation materials, which include practice tests, are high quality. They are designed in a manner that is flexible and can be easily incorporated into in our training model." — Deb Miller, Workforce Development Leader, SSM Health Care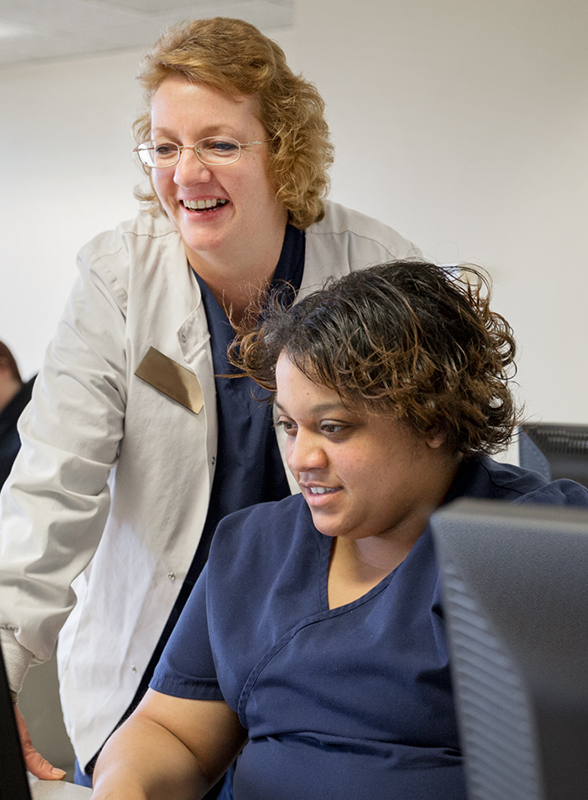 Prepare students for certification
As your healthcare certifications partner, we have ample resources to support your classroom
Test plans
Study guides
Practice tests
Interactive content
Focused Review® online remediation
Case studies
How it works
Your LMS + our learning materials in one, seamless integration
If you're an educator or manager, you know preparing your learners for success means more than just arming them with great content and learning tools. It also requires convenient access to great content and learning tools, and we've got you covered there too!
We provide access to all NHA materials directly from your institution's learning management system (LMS) using a Learning Tool Interoperability (LTI)-Based Cartridge. The LTI functionality allows your institution to securely launch content and activities directly from your LMS for convenient access to all your materials, all in one place.
This means less time on administrative tasks, fewer manual errors and more focus on your learners' success.
Features:
Compatible with most major LMS platforms
Easy access for learners through single sign-on (SSO)
Automatic syncing of scores with LMS grade book

Access training & learning solutions
These featured student-centered solutions were created to address the demands of today's healthcare workforce.

Prepare students for employment
NHA's employer relationships can strengthen your program's outcomes. 75-93% of healthcare employers require certification for each of NHA's allied health professions, according to the 2020 Industry Outlook.
Latest healthcare industry trends
Are you an employer or educator? Get started today with a free consultation!
Our dedicated specialists are here to assist you – from setup, training resources, and study materials to exam scheduling and certification. Our team can help you determine how to align NHA's learning resources and healthcare certifications with your organization's needs. When you partner with NHA, you don't just get certified healthcare workers. You also get a support team of certification specialists and 24/7 online management tools. Click below to get started!